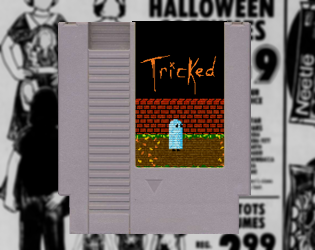 Tricked
A downloadable game for Windows
A short game inspired by the original Nintendo graphics, taking place during the 80s on Halloween night.
Happy Halloween!
Controls:
Arrow keys to move
Spacebar to interact
Esc to pause
Comments
Log in with itch.io to leave a comment.
This game is amazing, will there be more content of it in the future?
Thanks, glad you like it. I actually started working on a sequel that is not Halloween themed.
Oh bro this was so sick! Totally captured that NES vibe, you nailed it bro. Happy Halloween! <3
I loved this! A little brief, but it's always a good thing when you want more. I loved seeing a retro-style game that utilizes a full screen. People look at games like this like it's primitive, but I think it's eye-candy for sure. The music is fantastic, and sounds like genuine NES games of old. I especially adore the game's ending, but even before then, the player recognizes the modern twist, and it's downright creepy. Well done!
That was fun! Loved the music too! Short and festive, this is a fun little game if you love Halloween!